Demand was strong for the select offering of Salers bulls in Stirling, with a top price of 7800gns and an average of £4725 for seven bulls and £2153 for two females sold.
Sale leader was Whitebog Harvey from Alister MacKenzie, this April 2012-born Seawell Diplomat son stood first in his class in the pre-sale judging. His dam is the Cumbria Fury daughter Whitebog Rosie. He heads to Orkney with K Harvey, Vestrafold Farm.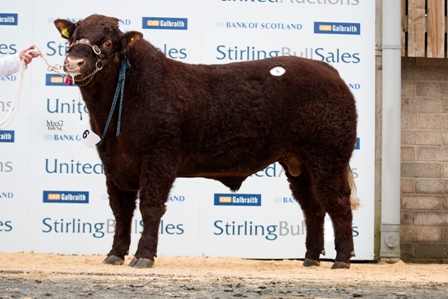 The champion Seamore Hernot from Seamore Farming sold for 5000gns to Terry Coghill, Birsay, Orkney. Sired by Seawell Viscount he is out of the Ultra daughter Seamore Dubai.
Seamore Farming then sold their reserve champion Seamore Heavy Duty at 4800gns. Also by Seawell Viscount he is out of Seawell Betty, a President daughter. He was purchased by R Garden, Culfosie, Echt.
Alister MacKenzie then sold Whitebog Hulk for 4500gns to John Mitchell and company, Rumbletonrig, Greenlaw, Duns. This one is a Seawell Diplomat son out of Whitebog Connie, an Uni daughter.
Making 4200gns was Graham and Colin McClymont's Cuil Fabergas. Born July 2012 he is by Ballygar Galway and out of the Bourbon daughter Cuil Daisy. He heads to Orkney with Messrs Sandison.
The first bull in the ring Rogel Monarch from Terence and Malcolm Pye sold for 3200gns to John Dickson, Rothsay, Bute. He is by Rigel Harry Poll and out of Rigel Melisande Poll, an Amazonien daughter.
Two in-calf heifers were forward from Terence and Malcolm Pye, their best price was 2100gns for Rigel Iowa. She is an Amazonien daughter out of Rigel Ino, a Crocodile Dundee daughter She sold in-calf to Casimir to Stephen Allardyce, Tarland, Aboyne.
The other Rigel Pamina sold for 2000gns to E Hourston, Swanney, Orkney. Sired by Casimir she is out of the Rigel Othello daughter Rigel Pascal Poll. She is in-calf to the homozygous polled Rigel unro Poll.
Show Results
The pre-sale show on Sunday afternoon was judged by Andrew Sleigh, Tarves, Ellon.
Class One
1st and champion, Seamore Farming's Seamore Hernot, by Seawell Viscount
2nd and reserve, Seamore Farming's Seamore Heavy Duty, by Seawell Viscount
3rd, Alister MacKenzie's Whitebog Hulk, by Seawell Diplomat
Class Two
1st Alister MacKenzie's Whitebog Harvey, by Seawell Diplomat
2nd Graham and Colin McClymont's Cuil Fabergas, by Ballygar Galway
3rd Farmstock Genetics' Cumbrian Roket, by Lataster Hector